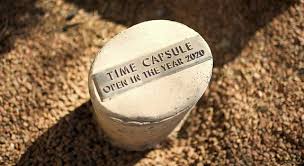 What will the world be like 25 years from today ?
The class of TS1 is burying a time capsule in the Lycée Régional de la Montagne on June 4th, 2015.
Some of them will come back to Valdeblore in May of 2040 to open the capsule and remember the good old days, when they were young and preparing to sit their Baccalauréat exams . Maybe they will bring their own children, some of whom could be about the same age as they are today.
They are conserving images, songs, movies, packaging, clothes and other artifacts from the world of 2015 to come back and reminisce about life way back when.